Digital Desk, Patna. In the third and final list, the Bharatiya Janata Party (BJP) on Wednesday announced the names of 35 candidates for the upcoming Bihar assembly elections 2020. BJP has also given ticket to Neeraj Kumar Singh, cousin of Bollywood actor Sushant Singh Rajput. He has been nominated from Umbhpur. On the other hand, Bhagirathi Devi from Ramnagar, Nisha Singh from Pranpur, Kavita Paswan from Koda, Rashmi Verma from Narkatiaganj, Gayatri Devi from Parihar and Sweety Singh from Kishanganj have been given tickets. Leaders like BJP in-charge Bhupendra Yadav, Bihar BJP election in-charge Devendra Fadnavis, Bihar Pradesh President Sanjay Jaiswal, Organization Minister Nagendra ji sealed the names of the candidates under the leadership of BJP National President JP Nadda.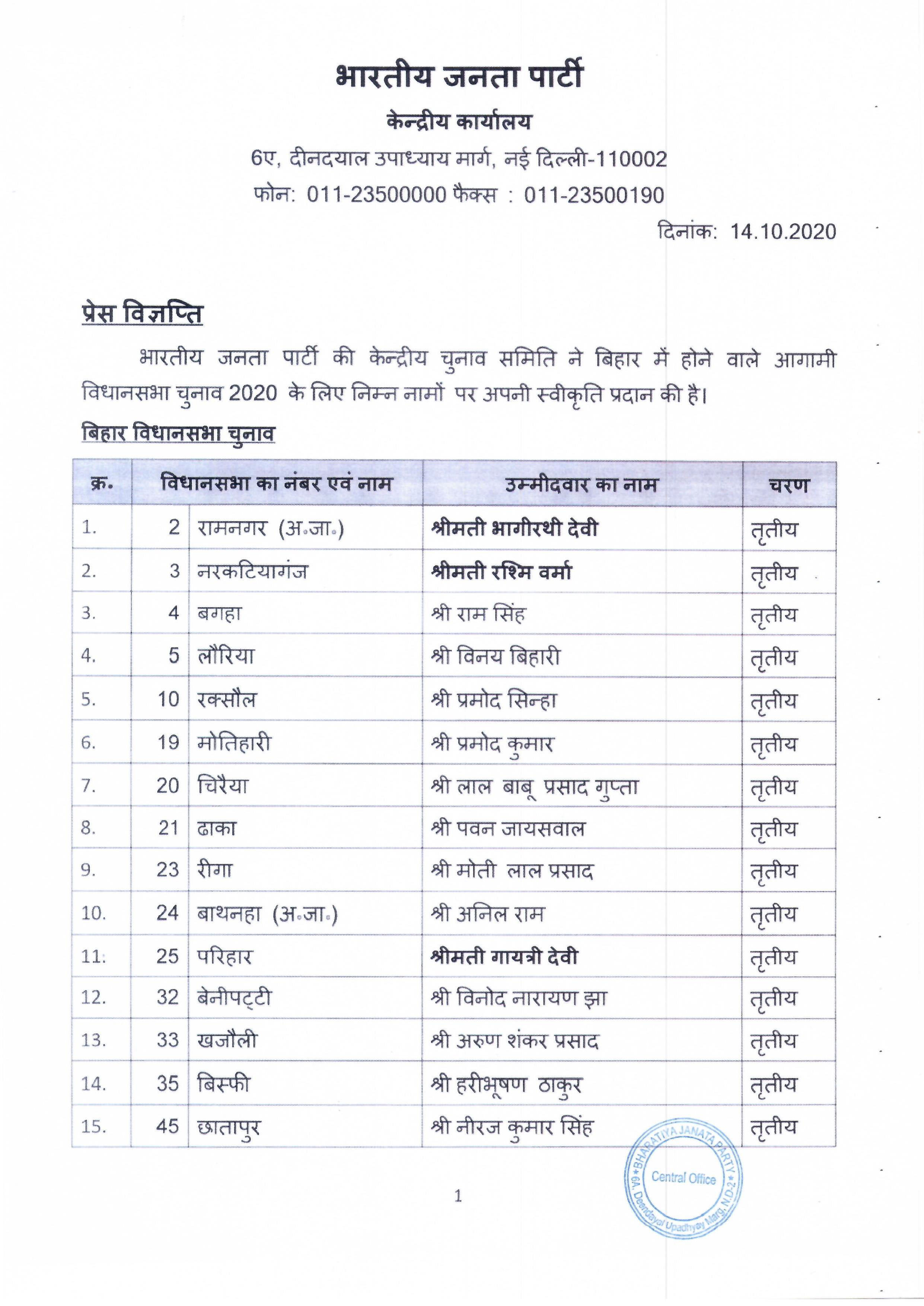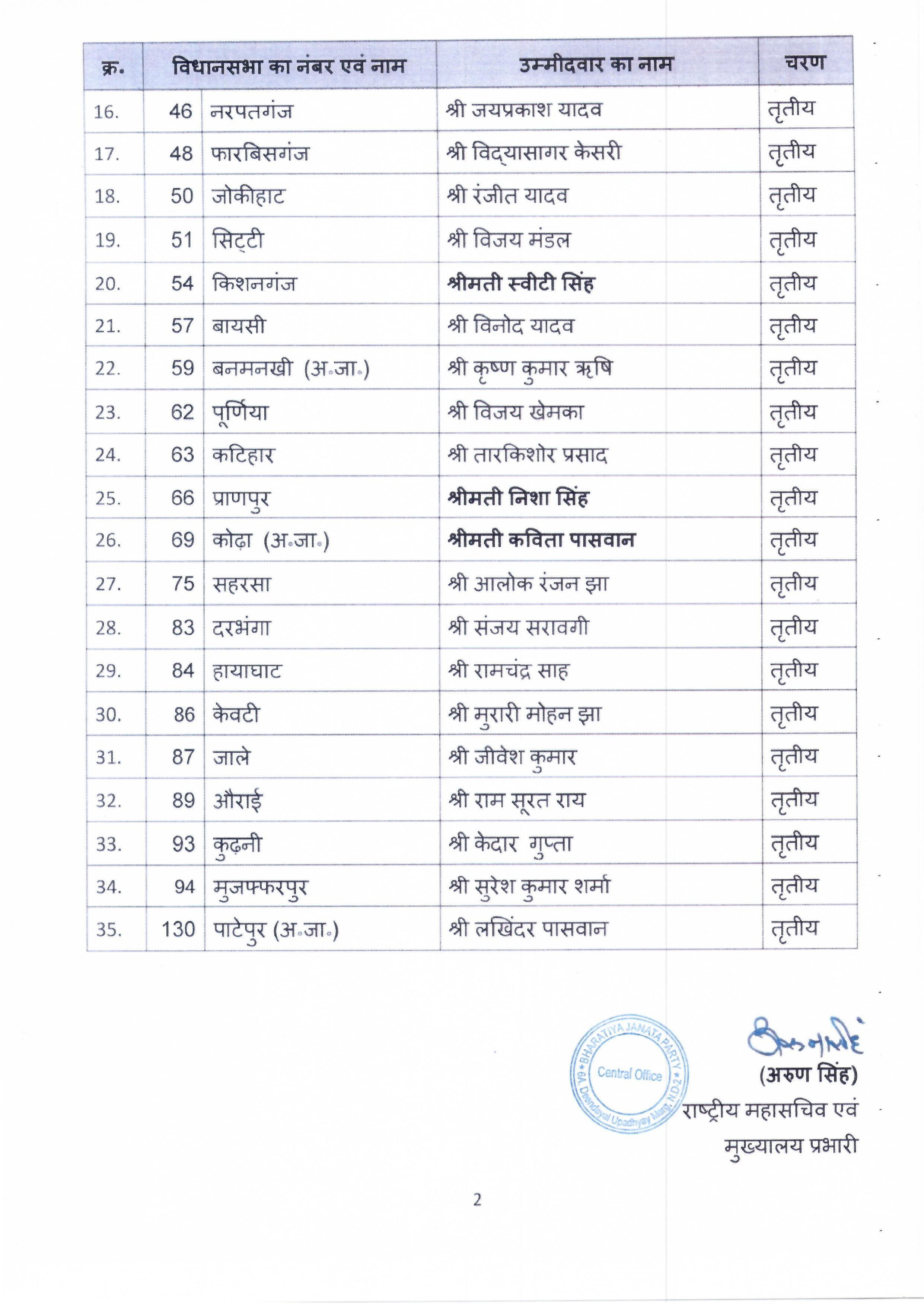 Earlier, BJP had released a list of 46 candidates for the second phase. Renu Devi from Betia, Mithilesh Tiwari from Baikunthpur and Asha Sinha from Danapur seat have been given in this list. Nandkishore Yadav will contest from Patna Sahib. BJP announced 27 names in the first list and 2 candidates in the second list. A total of 94 seats will be voted on November 3 for the second phase in Bihar.
The party has nominated Renu Devi from Bettiah, while Nandkishore Yadav, a minister in the Nitish government, has been fielded from Patna Sahib. The party has nominated Narayan Prasad from Nautan, Umakant Singh from Chanpatia, Krishnanand Paswan from Harsiddhi, Sunil Mani Tripathi from Govindganj, Sachinendra Prasad Singh from Kalyanpur, Shyam Babu Prasad Yadav from Pipra.
Similarly, Rana Randhir Singh from Madhuban, Dr. Mithilesh Kumar from Sitamarhi and Ram Preet Paswan from Rajnagar, Nitish Mishra from Jhanjharpur have been fielded by the party. Arun Kumar Singh from Baruraj seat, Ashok Kumar Singh from Paru, Mithilesh Tiwari from Baikunthpur, Ram Pravesh Rai from Barauli, Subhash Singh from Gopalganj, Omprakash Yadav from Siwan, Ramayan Manjhi from Daruli, Karanjit Singh from Darundha, Deveshkant Singh from Goria Kothi. Janak Singh from Taraiya, CN Gupta from Chhapra, Gyan Chand Manjhi from Garkha, Krishna Kumar Mantu from Amanour, Vinay Kumar Singh from Sonepur, Avadhesh Singh from Hajipur have been given tickets by BJP.
Sanjay Singh from Lalganj, Satish Kumar Yadav from Radhopur, Sheel Kumar Rai from Ujiarpur, Rajesh Singh from Mohiuddinnagar, Virender Paswan from Rosda. The party has fielded Rohit Pandey from Bhagalpur, Dr. Sunil Kumar from Bihar Sharif, Ranvijay Singh from Bakhtiyarpur, Kundan Singh from Begusarai, Asha Sinha from Danapur and Nikhil Anand from Maner.